I have been wild-camping  solo in the Lake District every opportunity I can afford since the age of 15. During this time I have racked up many hundreds of hours in the mountains and seen countless sunrises. 
So... here's my guide to wild camping in the English Lakes.
It is vital that you plan your route well before you set off as the consequences of failing to do this can be very serious. Here are my top things to consider.
Plan in some scrambling!-

There are many amazing scrambles for all abilities in the lake district, each one promising to get your heart racing. The easiest and most popular graded scramble is "Striding Edge" on Helvellyn. This is the perfect intro to scrambling.
Find peaks, scrambles or waterfalls you wish to see and plan the trip around them-

 For example, you could say you plan to climb Fairfield from Ambleside the first day and Helvellyn the next. Then look for good sheltered spots on the way where you can spend the night.
Take map contours into account and be careful with time- 
The general rule of thumb is to add 1hr for every 5km and 1/2hr for every 300m of elevation. This will differ though depending on group fitness.
Ordnance Survey-
 It is vitally important that you have and know how to use a map and compass. OS Explorer maps offer the best detail and as such will be best to keep you safe. "OSmaps Online" is the best tool for route planning as it will give you the elevation gain, distance travelled and matches with your paper maps. However, this is not a replacement for a paper map.
Choosing a Location to camp
Choose somewhere with running water nearby.

 There is nothing worse than waking up in the morning dehydrated and tired with no way to have a coffee and no way to wash up after breakfast. If you are unsure, either look for "waterfall" on the map or camp next to a tarn but ensure that the contours aren't too severe by any waterfalls.
Make sure your site is reasonably sheltered

.

you can ensure this by looking at the contours on the map and try to match the shelter to the direction of the forecast wind. Tarns can make very good camping spots as they are generally sheltered from 3 directions. (this is not always the case though so use your discretion)
If the wind is high, stay low.
Wind speed generally increases with altitude so if it's overly windy it may be best to head for lower ground.
Provided their isn't a strong Easterly wind, try to give yourself a view of the horizon to the east.

 There is nothing more beautiful than waking up with the sunrise on your face.
The law.

Legally, you need the land owners permission to camp. However, since wild camping has a huge tradition surrounding it, it is generally accepted provided you are above the highest fell wall, well away from towns and villages and leave no trace.
Go to "My Top 5 Lake District wild-camping spots" to see my personal favourite locations.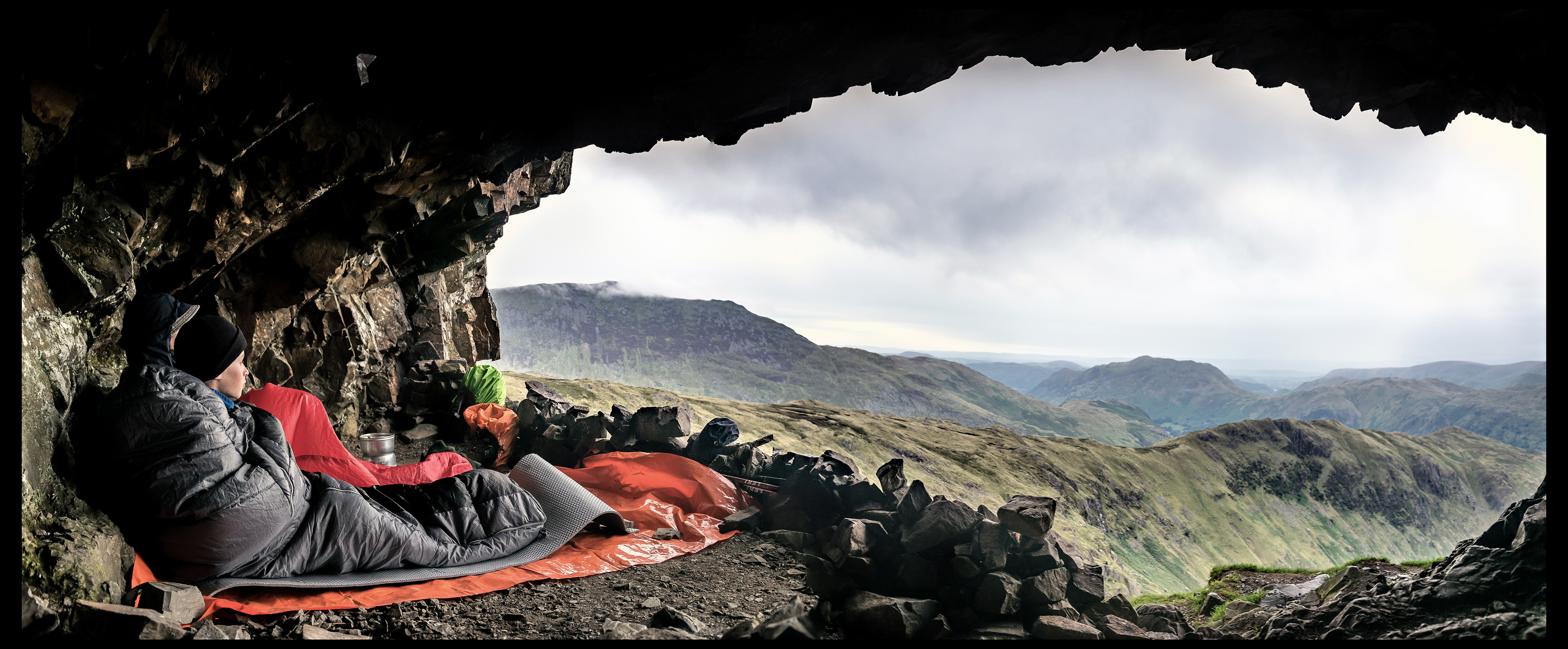 Packing light is important. However, there are some necessities.
Clothing

. 
It is important that you dress  appropriately  for the terrain and conditions. Sturdy Boots should be worn on any lakeland hike and a waterproof should be carried. Make sure to break in your boots before setting off on a hike to avoid blisters. The layering (thermals and such) should be packed appropriate to the conditions and time of year.
Tent-

 If you're going to be staying in a tent then you need to ensure its built for the task at hand. If you're camping deep in a forest then you will be able to get away with a slightly less sturdy tent than if you were sleeping atop a peak for example. 
Sleeping Mat and Bag-
You lose the majority of your heat through the ground; this should concern you as a lying on a sleeping bag crushes the down underneath you, reducing its benefit. Therefore a mat and bag should both be used and the warmth rating should be matched to the expected conditions. Do not wear damp clothes whilst you sleep, otherwise you will negate any benefit from your bag.
Head-torch-
This is not only important for finding your way about in the dark, but an important tool should you need to signal for help. It should ideally be a minimum of 250 lumens. Take spare batteries too! It can also be worthwhile to have a small light for inside the tent as well. I Use a "Petzl Actik Core" and a "Nebo lil Larry". 
Gas Stove-

 Although you are probably able to get by with just packed lunches for a couple days, there is nothing nicer than a morning coffee whilst watching the sunrise. (just don't overdo it, you can drink and eat from a single pan). I use a simple Vango Screw-on stove with a small pan. 
Water Bottles-

 Water is incredibly important! You need to ensure you've got plenty of capacity as you need water for drinking through the day, for cooking and for cleaning. (If you know that you can access clean water near your camping spot you can get away with less). I use a 2.5l water bladder  and 2 "Camelbak Eddy" bottles. 
Water Purifiers-

 Finding clean water is vital. It is important that you only ever take water from flowing sources (faster the flow the better). But even then, I recommend using chlorine tablets to protect yourself from infection. There are also devices such as the "lifestraw" which promises safety in most scenarios but I myself am yet to use one.
A Good Sharp Knife-
I
ts so darn useful for a vast plethora of things and is an important safety device. I would recommend either a fixed blade of at least 3 inches or a good premium folder that locks. I use a "Mora Bushcraft" and a "Spyderco Delica"​​​​​​​
Cleaning stuff-
Take A small folding shovel or trowel to clear up any...mess. You can use plain white unscented toilet paper if you must but flat stones, leaves and moss do the job perfectly well 
(its not so bad I promise!). This will save you packing space too.
Map and compass-
If the clouds come down or you get caught out after dark, you need to be sure you can still navigate safely! So bring a map, compass and learn how to use them. Os Explorer Maps are easily the best for trekking through the lakes.
Phone + Power bank- 
Personally I have a Nokia brick called Nichole that I take into the mountains so don't worry about charging my devices. However, if you must take a smartphone, take a small power bank to keep it topped up.
A phone is a necessity in case you need the mountain rescue team (do not rely on this though as you may not have signal)
Hand warmers-
Place these in your pocket or in your bag along with any battery powered devices. If it's too cold, batteries don't work.
First Aid kit- This speaks for itself. don't leave without it and ensure it is fully stocked. This should also include a foil blanket.
A well fitted rucksack- 

There is nothing worse than trekking with an uncomfortable pack.
Public transport in the Lake District is brilliant! Getting the bus to and from your adventure allows you to not have to worry about re-tracing your steps back to the car (its better for the environment too!). You can truly explore the mountains without limitation.
The 555 bus runs all the way from Lancaster to Keswick and other services peel off from the 555 route to every corner of the lakes. A Stagecoach day ticket costs £11. This ticket covers you for an unlimited number of buses and changes (between Carlisle and Lancaster).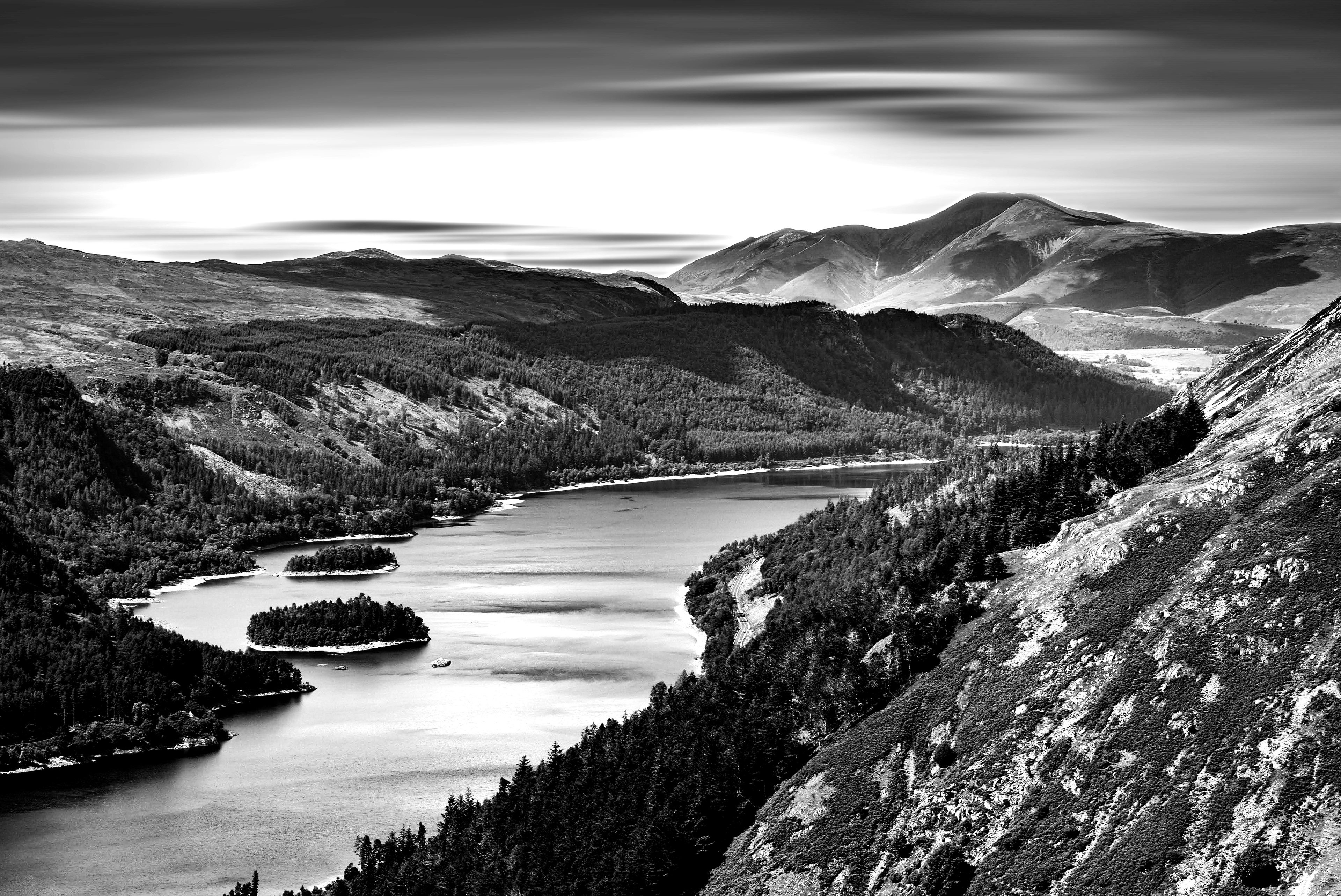 Always leave plenty of time for breaks, pictures, lunch and getting lost. If you aren't comfortable navigating in the dark, you don't want to get caught out. 
Adventures are about the journey so take the time to cherish the details, if something catches your eye, go check it out! its the unexpected things that make the best stories.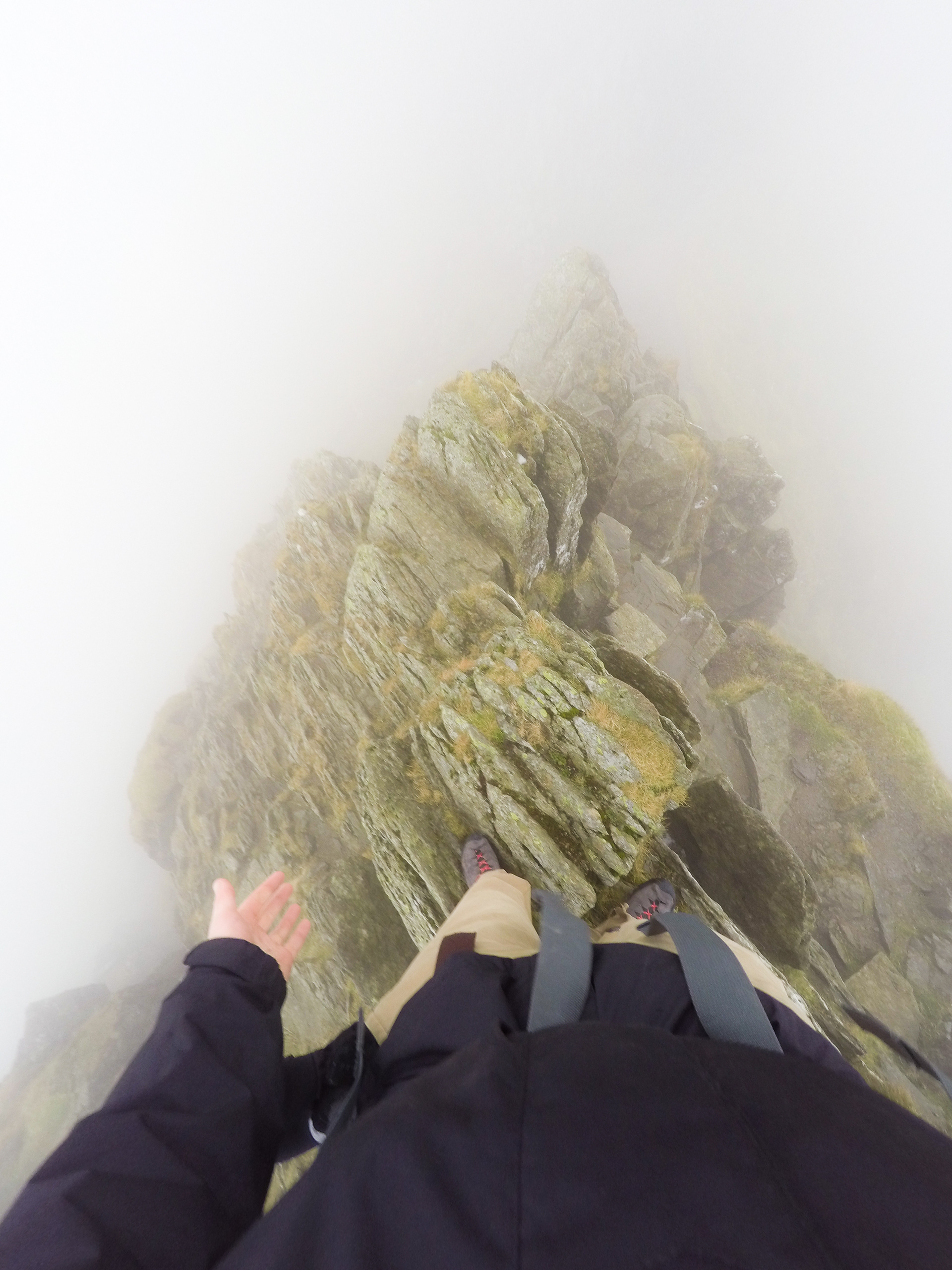 POO! Its a natural human process but when in the wild, we need to ensure we take proper care of it! 
When choosing where to poo, ensure that you are well away from water sources (the general consensus is 200ft or 60m away) and dig a hole at least 6 inches deep. Then drop trow and squat placing one hand on the ground behind you for balance. Once you're done use a flat stone for first wipe and leaves/moss after that. (leaves/moss will do if there are no stones). These should then be placed in the hole with the poo and buried. If you choose to take toilet paper then take plain white, unscented paper so as to not damage the ecosystem. If you are staying in a dryer climate then take the paper back with you as it won't decompose.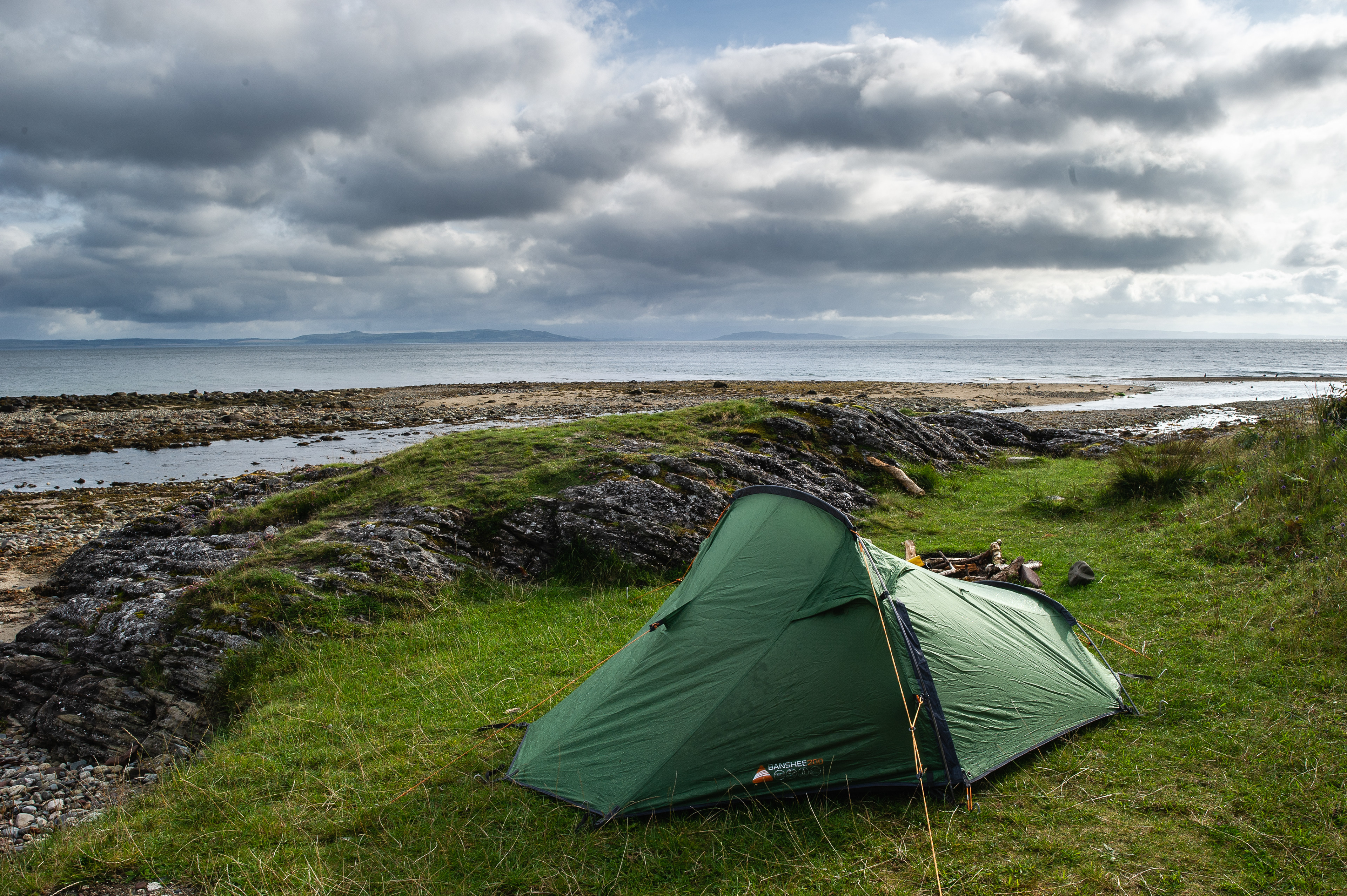 Giv

e someone your route plan.
This is especially important if you're going solo. This should include your route, your campsites, the planned timings and and contingency plans you may have. Hopefully, they will never need it but if something does go wrong this means you can still be found.
C

heck your First aid kit before leaving

. If it's not stocked up properly, don't risk it. This is vitally important. It's the one time you aren't prepared when everything goes wrong. 
Learn to use bearings.

The Mountain Rescue run many courses to help you with mountaineering skills. If you're tight on money though then there are many tutorials on youtube that will help. Perhaps practice in your local park first though.
Don't over estimate your ability.
Be honest with yourself and plan your route accordingly. If you're yet to do any scrambling then stick to no greater than grade 1 routes. To learn more about scrambling click here
Don't be afraid to turn around.
Your ego can get you killed in the mountains. If the terrain starts to get too technical for you, the weather moves in, your nav skills aren't what they should be or you aren't equipped properly; Turn around.
Take Emergency Food rations

. These should be high in sugar and should not be eaten unless absolutely necessary.

These are not snacks. 
Stay safe out there and have fun!!
If you want to see what i've been up to or you have any questions head to my contact page and follow me on instagram! 
As an Amazon Associate I earn from qualifying purchases